CenterScape by RF Code delivers a complete, end-to-end solution specifically designed to meet the needs of enterprise data centers, from individual facilities to world-wide deployments. CenterScape provides real-time insight, control and predictability over operational risks, costs and compliance, enabling you to address your most challenging data center design, management and operational challenges.
Key Features
Asset Management: Catalog and track assets, audit asset inventory and manage assets throughout their lifecycle
Environmental Monitoring: Monitor temperature, humidity and related environmental metrics in the data center
Change and Service Level Management: Continuously monitor data center assets, infrastructure, and associated service levels to guard against service outage
Capacity Planning and Optimization: Plan, measure, adjust and forecast capacity utilization across data center assets and associated infrastructure
Flexible Solution Purchase and Subscription Options: Choose between from flexible licensing options, including perpetual and subscription "pay-as-you go" models
Powerful, Accurate, Reliable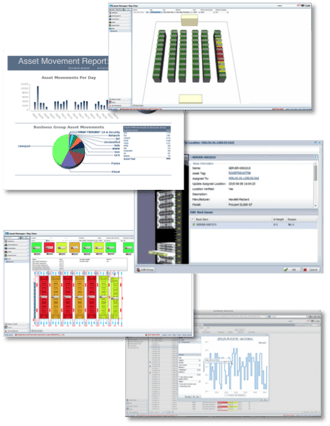 Drive data center efficiency, reliability, and savings with features not found in any other data center management platform. CenterScape combines the powerful functionality of RF Code's intuitive, easy to use software with powerful and customizable reporting and analytics, an intelligent data normalization engine, and cost-effective, easy-to-deploy, highly accurate wire-free sensors and asset tags.
Integration & Scalability
No two organizations are alike, and the same applies to the enterprise data centers that deliver their business-critical services. Built with an emphasis on flexibility and customization, CenterScape is an open platform, with APIs that are designed to allow easy integration with many other solutions utilized in the data center space, including DCIM, ITSM, and BMS solutions. And as your data center needs grow CenterScape's architecture allows for rapid scaling, particularly in global deployments.
Increase Efficiency, Reduce Data Center TCO and Make Informed Financial Decisions with RF Code
Our unique combination of powerful data center management software, tightly intergrated with data normalization middleware, a dedicated reader infrastructure, and internet-connected, wire-free asset location and environmental instrumentation is specifically designed to drive data center efficiency and productivity. RF Code ensure that you can:
---
CenterScape by RF Code includes licensed third-party software components. For more information click here.