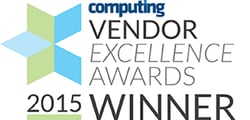 July 15, 2015 – Austin, TX – RF Code has won the inaugural Internet of Things Solution Award at Computing's prestigious Vendor Excellence Awards 2015. The awards celebrate the achievements of technology service providers leading the field of enterprise IT with innovative products, services and solutions that underpin and drive success in both business and public sector organizations.
Ed Healy, CEO at RF Code said, "This is another milestone in our impressive corporate history. In 1997 we started developing tracking and monitoring technologies to collect accurate, mission-critical data from machines, environments and people. In 2007 we began work on our software platform called the 'workplace IoT.' From this continually evolving management and analytics engine, we have produced solutions for the data center industry, healthcare, supply chain logistics, and oil and gas. We are honored to be recognized for our long-standing dedication to the Internet of Things."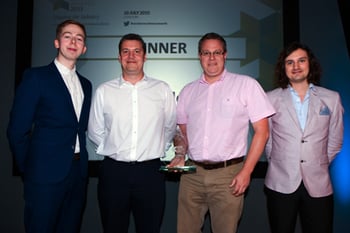 As the award was announced, Computing's judges commented "This entry shows a well-established organization grounded in connecting 'things to the internet' - to create the IoT. Demonstrable business cases with hard data – the judges loved it."
With operations and customers on every continent, RF Code's product and services deliver millions of dollars in ROI and improve the overall efficiency and performance of the world's most recognizable and successful companies. The award-winning platform includes solutions for:
The data center - banking and financial services, telecommunications, enterprise IT, managed services and public organizations all depend on RF Code's real-time, accurate data to ensure 100% IT availability and the business continuity of their mission-critical facilities.

Healthcare - RF Code monitors air condition, pharmaceutical and food storage; ensures the immediate availability of life-saving equipment when needed; and includes systems to track and audit the hand hygiene of medical staff, one of the World Health Organization's top priorities for reducing the spread of infectious diseases.

Supply chains / oil and gas - millions of data points serve data to other operational systems to assure profitable operations and regulatory compliance. This includes tracking hundreds of thousands of containers moving goods from manufacturer to distribution to the retail store, to the monitoring of personnel safety and security in large natural resources plants.
Richard Jenkins, Vice President of Worldwide Marketing and Business Development at RF Code, said "The CIO's role is to provide faster, more-efficient IT services that improve the profitability and performance of the company. CIO's who invest in RF Code have improved their financial and logistical planning accuracy, eliminated the risk of a break in service delivery, and improved the overall ability of the company to deliver products and services to market. We feel these outcomes are some of the many reasons why we won this award."