We recently attended Data Centre World Hong Kong with our partner QDS. The event was a great opportunity to get a sense of upcoming market trends and to speak to customers in the region.
Hong Kong's data center market continues to grow. Large companies are still looking to invest in the city because of strong connectivity and its reputation as a key financial location. Colocation facilities are a popular choice for the region. Equinix has four business exchange data centers in Hong Kong and Alibaba is continuing to grow its cloud capacity there.
Whilst at Data Centre World Hong Kong, one of the more interesting presentations was from PTS Consulting. With a title that intrigued us: DCIM – Make It Work For You and Stop Wasting Money! – the session offered plenty of advice to companies looking to invest in the technology for their data center management needs.
The key message from the presentation was there is no single definition for DCIM – every business is different and the right DCIM solution varies based on what functionalities your business is missing.
Another issue is that many people in the industry use DCIM as a catch-all term, which can become extremely confusing for those looking to deploy solutions.
Asset management and environmental monitoring – two solutions that the presentation recommended – often come under the DCIM umbrella term but we see them as standalone solutions in their own right. There are many DCIM solutions that don't include either option so it is always important to check what capabilities are included before committing to an investment.
RF Code's solutions integrate and enhance DCIM tools to bring real-time automated and granular information to data center management. With this additional insight, organizations can better understand their facilities and gain a greater ROI from DCIM solutions.
PTS's presentation also discussed the benefits for both colocation and on-site facilities. These included:
Capacity savings for colocation facilities

Cooling power savings for on-site facilities

Decision-making benefits of IT asset management for both colocation and on-site facilities
Even though Hong Kong is its own data center market with its unique challenges, there are still many similarities between the region and other major markets across the world, especially within the context of colocation.
Contact us to find out how RF Code technologies integrate with existing BMS and DCIM systems to deliver maximum value from your investment.
---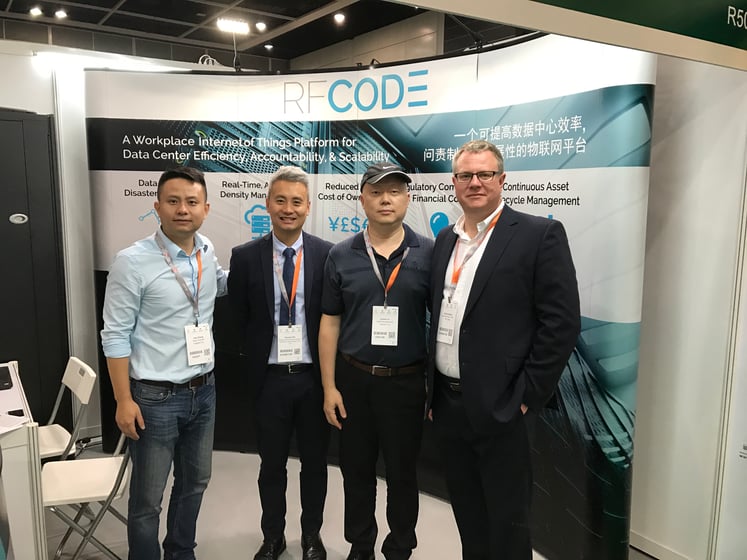 Pictured: RF Code's Adrian Barker, Ricardo Siu from QDS, and attendees from the event