We are fortunate to have a number of case studies with impressive ROI figures and financial results, however one of our most compelling examples started on a smaller scale than you would expect. Beginning small is becoming a common approach to improving data center efficiency — after all, many successful data center projects involve incremental adjustments that when combined together deliver large savings, improved inventory accuracy and heightened asset security.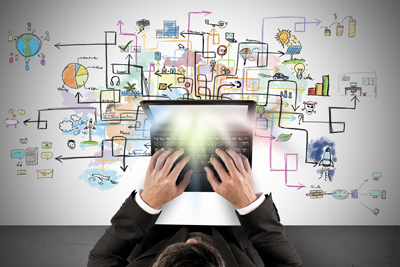 Furthermore, a key advantage of starting with a smaller deployment is the ability to gather the necessary data required to build a case for expansion. If project teams are equipped with accurate data and tangible evidence of the improvements from a deployed solution, it enables them to clearly outline the reasons behind further investment to senior executives.
After all, many C-suite executives are not concerned with specific solutions or vendors, or in some cases, even the 'headline business outcomes' – they merely want to have the confidence that their technical personnel have found solutions that will be good for the business in the long-term and that they have done their due diligence.
Data First, Deployment Second
This can be seen with the customer in question — one of the world's largest providers of financial market data. The project team began with a single objective: can Active-RFID sensor technologies enhance how assets are managed throughout their entire lifecycle?
For the majority of data center operators, the reasoning behind this thought process is clear. The benefits include lower data center TCO, clearer capacity planning, stronger audit compliance, easy-to-locate assets as they move through facilities and the ability to automate cross-departmental processes and procedures. That said, there is still the misconception that delivering these outcomes requires broad changes to management protocols and expensive DCIM solutions. This is rarely the case — often the reality is a different picture.
Understandably, most data center operators will want to carve a path to delivering a demonstrable ROI as quickly as possible, however a targeted, easily measured proof of concept that can be replicated on a global scale is likely to be more valuable to both the data center manager and executive team in the long-term.
Less Infrastructure, Better Results
Ultimately, any change in asset lifecycle management should be supported by real-time data. There is little value in manual data collection processes that are dependent on personnel or inflexible wired sensors that cannot adapt to the changing data center environment assets move through.
It is important that project managers think beyond the concept that assets remain static in racks 24/7. What about the loading dock? Is that location covered by the asset lifecycle management system? Storage rooms, staging areas and maintenance sites are just as critical. If assets are to deliver maximum value to the business, they need to be where the management team expects them to be - in the rack. When an asset remains inactive for days due to a technical fault or lies forgotten about in a storage location, it is costing the organization money, both through under-utilization and general financial depreciation.
Our customer recognized this fact and designed a multi-room asset management system for testing purposes. This included modeling real-time data collection methods using different sensors, DCIM integration testing, and utilizing its channel partnerships for pre-arrival tagging services.
Essentially, the customer looked to be comfortable with RF Code's solution before the project team then increased the scale of the deployment. This process included the creation of a clear asset lifecycle management policy for internal staff, employees within the organization's decommission site, and partners the company works directly with.
Once this framework was put in place and generated the desired results, the company was in the position to rollout RF Code's solution across its global data center estate. Today, this includes real-time asset lifecycle management across nine global locations. Pre-arrival tagging is managed by three vendors at the point of purchase and 50% of assets are tagged ahead of arrival by the company's reseller partner. There are also proof of concepts in progress with two other business units that want to integrate RF Code data with their own management practices and software solutions.
The most significant lesson from this example is a crucial one — start small, prove the results and once the process is in place, expand from there. Effective data center management involves multiple departments and management levels, however business-wide integration and global deployments require a careful blend of strategic planning, accurate data, sustained measurement and patience. If you follow that best practice, there is no reason why you should not experience the same level of success.
Ready to begin seeing the value of true data-driven data center asset lifecycle management? Download our eBook "Defragging You Data Center," and see how real-time location visibility across your asset's entire lifecycle -- from delivery through deployment and disposal -- drives savings and efficiency.