Research says IT equipment can run warmer, but data centers aren't raising temperature to save money.
Running a successful commercial data center is not for the faint of heart. With increased competition, profit margins are creeping downward. So one might assume data center operators would take advantage of something as simple as raising the equipment operating temperature a few degrees.
Letting the temperature climb can reap four percent energy savings for every degree increase, according to US General Services Administration. But most data centers aren't getting warmer. Why is this?
The ASHRAE Shake-Up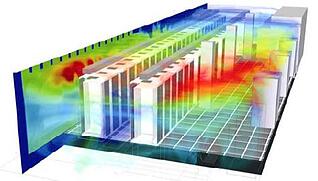 For years, 20°C to 22°C (68°F to 71°F) was considered the ideal temperature range for IT equipment. In 2004, ASHRAE (American Society of Heating, Refrigerating and Air-Conditioning Engineers) recommended the operating temperature range of 20°C to 25°C (68°F to 77°F) based on their study and advice from equipment manufacturers. Seeing the advantage, engineers raised temperatures closer to the 25°C (77°F) upper limit.
ASHRAE shook things up in 2008 with the addendum Environmental Guidelines for Datacom Equipment, in which the organization expanded the recommended operating temperature range from 20°C to 25°C (68°F to 77°F) to 18°C to 27°C (64.4°F to 80.6°F). To ease concerns, ASHRAE engineers mention in the addendum that increasing the operating temperature has little effect on component temperatures, but should offer significant energy savings.
So why aren't data centers getting warmer when there's money and the environment to be saved? The answer is, it's not as simple as we thought. Data centers are complex ecosystems and increasing operating temperatures require more than just bumping up the thermostat setting.