Traditionally, network access equipment hasn't been housed in the most environmentally friendly spaces. File rooms, storage spaces, even janitorial closets are often commandeered in order to support an organization's growing communications infrastructure needs. And while it's clear that this equipment must be stored somewhere, these spaces almost always lack appropriate air circulation or cooling, and often include plumbing, sinks, and other sources of liquids as well. One thing is certain: the vast majority of network closets are not well suited to protecting the sensitive electronic equipment they contain.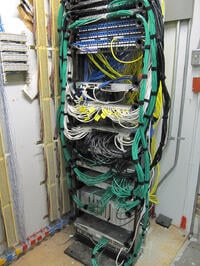 And yet, network closets house the powerful equipment that offices rely on to support many vital business applications. Just like equipment housed inside a data center, network closet equipment failures can result in massive losses due to the disruption of the distributed network infrastructure, telecommunication services, and more.
And the potential for failure is rising. As business demands grow, more – and more powerful – equipment is being deployed, increasing the amount of heat being generated in these unventilated, uncooled spaces. Without proper monitoring, it's only a matter of time before this combination of density and sub-optimal environmental conditions results in downtime.
Unfortunately, monitoring the environmental conditions around sensitive equipment housed in equipment and wiring closets is difficult at best. They are typically tucked away in remote, difficult to access locations throughout the facility, and almost always kept under lock and key to prevent access by unauthorized personnel. These conditions make the likelihood of early detection of overheating equipment, fluid leaks, and other threats to uptime very low. In most cases, a problem will not be noticed until a potentially catastrophic equipment failure has already occurred. Just as in the data center, continuous monitoring of the environmental conditions in these spaces is key to preventing downtime.
RF Code's Environmental Monitoring for Distributed Network Closet bundle addresses these challenges affordably and efficiently. Consisting of a collection of temperature, temperature/humidity, and door access sensors coupled with our new M240 Reader, this offering is specifically designed for use in small, congested or remote spaces such as wiring and network equipment closets. Once deployed, you can be instantly notified if temperatures or humidity fall outside of acceptable ranges, or if unauthorized access to these space occurs. Take a closer look.