It places number four on IMD's annual world competitiveness report, has a population of over 7 million, is the most high-rise dense city globally and defines APAC commerciality across the world.
The continued global recovery is dependent on Hong Kong. It controls the global-recession busting growth figures evident in the region. Its sustainability as a financial world player relies entirely on its data centers. They are its lifeblood, but also one of its most significant challenges.
The power demands of a world center of finance are massively expensive. Efficient power generation and distribution against the backdrop of rising energy costs has put Hong Kong and mainland China's energy corporations in the spotlight.
Globally people are consuming more energy than ever before. The US Energy Information Administration expects global use to rise by an astronomical 56% by the year 2040. That's the equivalent of 4,000 power plants.
Identifying efficiencies can transform the bottom line of an energy company instantly and significantly. Inefficient systems and processes already add millions of dollars of needless expense to budgets. This cannot continue.
As power becomes scarcer, more expensive and transforms into a near-priceless commodity, citizens will expect governments to compete on a macro level and accommodate their energy requirements. Energy sustainability will quickly be an issue affecting everyone.
The Stirred Dragon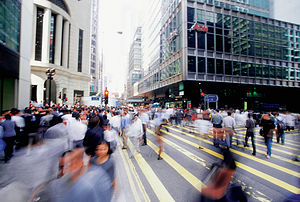 These challenges are already evident in Hong Kong and China. The dramatic growth of power use within Hong Kong is a direct result of emergent data technologies. Businesses and the consumer landscape have pushed the city, known for its technological leadership, towards an always-on culture severely reliant on power and data infrastructure. The 24/7 financial demands of the city place further pressure on its energy companies.
Data center growth in Asia as a whole is exploding as more than half the world's population (estimated at 4.4 billion) catches up with the West with technology, digital culture and general infrastructure improvements.
Equinix's capital expenditure in Hong Kong reached $150 million this month with the expansion of its latest Tsuen Wan facility. SoftLayer, IBM's infrastructure arm, pledged $1.2 billion for facilities in key financial centers, including Hong Kong. China Unicom has invested $3 billion into an integrated telecommunications facility in the region to support its soaring user base.
Analyst figures mirror this. Frost & Sullivan values the Hong Kong data center market at $802 million by 2019. These are huge numbers that need to be paid attention to.
Power Driving Power
With statistics like this, it is crucial that energy companies have resilient, optimized infrastructures that support their complex operational requirements.
Scaling power in real-time and retaining enough capacity to ensure services, is not just mission-critical for Hong Kong's energy companies, but critical on a global scale.
Behind the intelligent generation of power is IT and the data centers of power companies. As energy distributors look to enhance and drive greater efficiency across their operations, they require agile IT and data center infrastructure to support their objectives.
Efficient urban energy management is mirrored by efficient energy control within the data center.
Implementing visibility measures and identifying immediate thermal and power-related concerns – as well as predicting future trends - allows management to maximize budgets and guarantee operational redundancy. Disaster avoidance is essential in the context of power distribution. Power cannot fail.
Costs Against Distribution
The age of cheap power in Asia is ending. Shanghai Grid announced a 10% increase across its network last year. PetroChina is raising its oil prices drastically. Power companies, if they are to remain competitive for consumers, have to deliver commercial improvements elsewhere in their operations. The data center offers the perfect opportunity.
As Zhu Hua, Tencent's Senior Data Center Architect and member of the China Data Center Committee highlighted recently, the vast cost savings possible are obvious. "For instance, for a data center with 100,000 servers, if electricity prices drop by a PUE of 0.1, it will help the data center save 12m CYN (almost $2 million) a year."
One of Hong Kong's leading power companies recognized similar potential efficiency improvements in its own data center and with the help of RF Code optimized its operations to cut its current power requirements.
This involved bringing it in line with globally recognized ASHRAE guidelines, an environmental monitoring solution that took a single day to deploy and the rectification of thermal complications that would have, if left unaddressed, caused the facility to fail.