Our previous discussion around wearable technology and its potential impact on the data center raised some important questions around always-on sensor networks, the Internet of Things (IoT) and intelligent infrastructure.
The Internet of Things is not a passing fad. USA Today recently highlighted its importance and the growing number of applications for sensor networks. They range from the every day mundane to city-scale efficiency improvements.Sensors are everywhere. From the clever Tile sensor that keeps everyday items in check, to the health-monitoring band on your wrist; from GE Healthcare tracking life-critical equipment and patients, to China using sensor technology to more intelligently manage urbanization.
Sensors are helping prevent suicide in prisons, they are making our rivers cleaner and they are making our buildings more environmentally friendly, including the world's data centers. From a corporate perspective, they are driving greater operational efficiency, allowing enterprises to save massive amounts of money and helping improve the quality of service delivered to customers.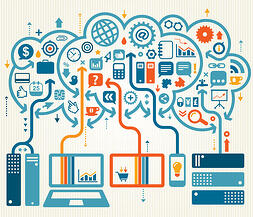 Coming Together Under One Intelligent City
The numbers around sensors are staggering. VisionGain puts the wearable sector at $5 billion, the broader IoT landscape is nearer $1.5 trillion (MarketsandMarkets) and sensor-supported smart cities are at a similar level of investment (Frost and Sullivan).
This is not surprising. The world's population passed 7 billion in 2012. A billion more people are expected to be alive in 2025, 60% of which are expected to be living in urban environments; by 2050 70%.
As urbanization continues and communities become increasingly reliant on the benefits sensor networks bring, investment will only surge one way - upwards. This isn't a future concern but one that needs addressing now. The world today needs greater efficiency in how its transport networks, logistics infrastructure, public services and healthcare are run.
The good news is that Big Data and sensors are changing lives for the better already. Santander's deployment of 20,000 sensors in Spain to monitor and reduce air pollution levels is helping improve citizens' quality of life.
Helsinki's government has used Big Data to overhaul the efficiency of its public bus network, saving 5% in fuel costs through more intelligent routing and bus maintenance – a percentage that yields vast commercial benefits considering the number of vehicles in the fleet. This money can then be reinvested to further improve services.
France is experimenting in reducing energy usage in homes through intelligent monitoring. Ecuador is investing $1 billion in a high-tech city that will adapt to residents' needs.
There are many other examples. The cities we live in, our interaction with the world and the data infrastructure that supports everything is shifting at a seismic rate. Sensors are here to stay and will only become more critical as urbanization continues.
Big Data applications and any improvements do however rely on one key component: the world's data centers running flawlessly. If uptime drops, customer opinion will suffer, and as we become more reliant on data-driven technology, people's lives could be put under threat.
The data center of the future must be secure, commercially aligned, thermally efficient, optimized, compliant with international data, energy and carbon regulations and support the businesses, services and people that rely on it entirely.