In this, the final part of our four-part weekly series on RF Codes' Edge Computing model, we look at how RF Code's Edge Management solution adheres to the Edge Computing Model, differentiates and provides business value other products cannot deliver. The goal of this series is to provide a foundational understanding of the core Edge requirements, the Edge objective values, product relevance and positioning, and how companies can evaluate and assess their path to Edge.
In part 1 of this series we examined the common attributes of Edge-oriented products: the baseline features or attributes that a product must exhibit in order to logically be considered an Edge product at all. In part 2 we looked at the ways in which Edge -oriented products can be differentiated. For part three we examined how Edge-oriented products deliver value by providing visibility into the business the Edge delivers.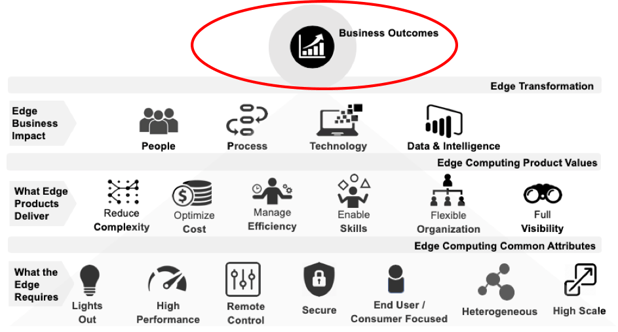 RF Code for Edge, Management Product Values
RF Code for Edge is a solution that monitors the Edge environment (power and cooling, access and activity) and the assets (servers, networks, storage, racks and mobile devices) holistically and at scale. CenterScape is a hardware and software solution that delivers capabilities other products cannot provide. The hardware is easy to install, providing the CenterScape platform with IT environment visibility not possible using software or products provided by hardware companies. Communication between the hardware tags, sensors and the CenterScape platform is accomplished using wireless readers allowing monitoring to occur even when the corporate network is impacted which means it continues to monitor while other products are down. CenterScape is hardware agnostic so companies can choose whatever hardware is needed (server, network, storage, racks, power and cooling) and have a solution that supports them all, with no API's or custom development.
The following are the attributes an Edge requires that are uniquely addressed using RF Codes' solution for Edge.
Optimize Cost
The Edge Challenge:
Edge is not just another data center and if managed using the same diversity of skills, methods and technology, per Edge location, creates significant cost. To manage cost Edge is managed holistically providing a view of overall health of Edge and the overall health of the hardware and environment within each Edge location with optimized skills and resources.
With CenterScape:
Removes need for local skills and resources
Single view of Edge environment and assets eliminating displays and disparate points of reference, reducing human effort, ensuring quick identification of issues and rapid problem remediation
Unified asset movement, environmental conditions and physical rack access monitoring delivering an understanding of cause and effect reducing MTTR
Without requiring a network connection, assets are tracked from arrival into production eliminating delays or equipment placement issues in the asset lifecycle process
Errors avoided by pin-pointing the precise location of equipment to ensure change and maintenance is carried out on the right equipment supported by rack access monitoring and video
Integrated with common DCIM, Environmental and Service Mgmt. products, protecting investment while augmenting and enhancing existing technology
Reduce Complexity
The Edge Challenge:
Complexity = number of Edge locations x hardware in each Edge location x hardware type at each Edge location. Multiple management technologies and monitors needed to understand overall Edge health requiring sophisticated collaboration between different support teams to assess state, identify issues and remediate.
With CenterScape:
Roles based, easy to visualize, navigation using hierarchical displays that pin point the asset movement and environmental Edge issues at a global level
Massively scalable solution, proven to simplify the monitoring and visualization of the IT infrastructure and the movement of hundreds of thousands of Edge IT assets and environmental conditions
Hardware movement and environmental conditions monitored without the network or need to integrate with the Edge hardware simplifying communication and eliminating custom integration
Data collected provides the information needed to understand Edge state allowing performance comparisons to be made and necessary changes to be made across the entire Edge infrastructure
Motion triggered, video ensures access and activity is monitored with alerts triggered to address unauthorized activity and theft
Energy monitoring across all Edge locations
Correlation of Impact of the environment on the Edge assets
Manage Efficiency
The Edge Challenge:
Edge inefficiency spans many areas including an inability to understand Edge conditions, slow issue remediation, poor change controls, no remote visualization, a lack of physical security access control, uncoordinated support resources, too many support resources, uncollaborative silo'd responsibilities, too many or not enough skills, too many tools or the wrong tools. These inefficiencies are a result of traditional data center thinking and using technology that cannot manage the highly distributed Edge environment.
With CenterScape:
No local personnel needed to track assets, monitor the environment or monitor and track access and activities within remote Edge facility
Minimal effort and cost to add asset and environmental monitoring to new Edge facilities
Environmental sensors and asset tags added quickly and easily with minimal human effort and skills
A single, trusted view, providing the necessary detail for immediate isolation of environmental issues saving remediation time and outage costs
Business SLA's met by environmental conditions associated with the impact on the assets
No custom integration. Assets monitored without adaptors.
No impact on the network. Data sent from tags and sensors to readers without the network
Integrated with common DCIM, Environmental and Service Mgmt. products, protecting investment while augmenting and enhancing existing technology
Information to compare to the efficiency of all Edge locations
Enable Skills
The Edge Challenge:
Expensive, highly skilled, personnel are required to effectively manage the disparate complexities of a data center. Each area within a data center (network, servers, storage, power & cooling etc.) has resources focused on their own management function. The number of components in each area can be substantial and therefore creating a management silo with little understanding of adjacent areas. The same skills are required to manage the Edge, however the amount of technology is less requiring lower skills to manage each areas capacity with higher skills to understand how each Edge area supports and impacts others.
With CenterScape:
Roles based views allow different teams and individuals to understand the health of the Edge environment from their own perspective
Promotes the ability to remove and/or simplify operational and support silo's
Easy to install asset tags and environment sensors. No new or additional skills required
Accelerates fault remediation and decision process for change management
Graphical interface allows ease of navigation within and across Edge locations
Easy to understand, unified, asset and environmental information
Data collected, analyzed and simplified providing actionable information to immediately solve complex issues
'Guided presence' at each Edge location enabling a lower skills requirement for basic housekeeping activities and eliminating risk of errors with scheduled maintenance and support
Flexible Organization
The Edge Challenge:
Edge implementations vary in size, complexity, environment and business model therefore, the personnel responsible for managing and supporting the Edge also varies. This demands technology that provides a single source of truth, providing right information to a broad number of people and roles using easy to understand roles-based views.
With CenterScape:
Eliminate Edge organizational barriers with roles-based views and a single source of truth
Allows environmental conditions to be understood without requiring deep domain expertise
Promotes collaboration helping eliminate organizational barriers allowing each team to choose their own Edge views and functions
Data shared with other Edge management solutions to enrich their content
Issues, with context, sent to service management solutions to support business SLA's providing to service managers and business managers
For companies with Edge management spanning different teams and roles, CenterScape collects, processes, and delivers information to meet the needs of a broad range of skills and functions
Roles based views delivering information specific to meet an individual's specific need
Full Visibility
The Edge Challenge:
Each Edge location will require physical changes and maintenance. These activities need to be guided to ensure the no mistakes are made. This requires remotely enabled visibility into Edge locations that software, video and phone support alone cannot provide.
The Edge facility may have other devices that reside outside the server room requiring technology that can track and report on their location, health and performance.
With CenterScape:
All Edge locations monitored using the same technology with information delivered through a common, roles-based dashboard.
'Guided presence' capability ensures asset change or maintenance is accomplished accurately and without mistakes leveraging both tag LED flashing on the EXACT asset, supported with video guidance
Assets tracked without being connected to network or power
Asset tracking, environmental sensors, Edge access monitoring and video integrated to deliver a status and health view for all or a specific Edge facility
Mobile tracking monitors the movement of all equipment considered part of the Edge but used in the offices and facilities outside the Edge facility
CenterScape platform dashboard shows the impacted assets when a cooling or power issue is detected
The collection and correlation of power and cooling, asset location tracking and physical access data provides full remote visibility of each and every Edge facility
RF Code for Edge Enabling Edge Transformation
Finally, let's look at how RF Code for Edge's product value correlates to an impact on people, process, technology and data & intelligence in an organization.
People
Reduce Complexity
Easy to understand, roles based, navigation using hierarchical displays that pin point the asset movement and environmental Edge issues at a global level
Optimize Costs
Removes need for local skills and resources
Single view eliminates displays and disparate monitoring points, reducing human effort to identify issues and remediate problems
Manage Efficiency
No local Edge personnel needed to track assets, monitor the environment or monitor and track access and activities
Minimal effort to add asset and environmental monitoring at new Edge facilities
Enable Skills
Roles based views allow different teams and individuals to understand the health of the Edge environment from their own perspective
Removes and/or simplifies operational and support silo's
Flexible Organization
Roles based views eliminates organizational barriers
Asset location and environmental conditions understood without requiring deep domain expertise
Full Visibility
Global Edge locations monitored delivered through a common, roles-based dashboard
Process
Reduce Complexity
Simplified and unified monitoring and reporting of the Edge IT infrastructure
Optimize Costs
Assets tracked without the network from arrival into production eliminating delays and avoiding equipment placement issues
Asset location, access monitoring and video ensures change and maintenance is logged and carried out on the right equipment
Manage Efficiency
Environmental sensors and asset tags added quickly and easily with minimal skills and effort
Single consolidated view provides necessary detail for immediate isolation of environmental issues
Business SLA's met by environmental conditions associated with the impact on the assets
Enable Skills
Easy to install asset tags and environment sensors. No new or additional skills required
Roles based information provides easy to understand Edge state across an organization
Flexible Organization
Each team chooses their own views and functions removing organizational barriers and promoting collaboration
Full Visibility
Assets lifecycle tracked through delivery, staging, into production and to retirement.
Edge infrastructure change and maintenance accomplished with guided presence' capability
Technology
Reduce Complexity
Assets tracked and environmental conditions monitored without the network
Assets tracked without power
No custom integration with Edge Assets or environmental systems
Optimize Costs
Assets tracked without adapters, integration or additional skills
Environment monitored holistically no matter what power and cooling systems are used
Out of the box integration with DCIM, environment and service mgmt. products, protecting investment while augmenting existing technology
Manage Efficiency
No custom integration requirements
Assets monitored without adaptors.
No impact on the network. Data sent from tags and sensors to readers without the network
Integration with DCIM, environment and service mgmt. products allows rapid issue identification and remediation
Enable Skills
Graphical interface allows ease of navigation within and across Edge locations
Easy to understand, unified, asset and environmental information
Flexible Organization
Roles based views and reporting
Easy to understand Edge state
Global, structured, view of Edge infrastructure
Full Visibility
Global view of assets tracked without network or power
Asset tracking, environmental sensors, Edge access monitoring and video integrated to deliver a comprehensive infrastructure status and health view for all or a specific Edge facility
Integrated video to track and record physical activity
Data & Intelligence
Reduce Complexity
Environmental and asset relationship association provides visibility into cause and effect
Data provides Edge state comparisons
Optimize Costs
Edge power and energy comparisons allowing changes to optimize consumption
Edge rack capacity monitored allowing resource optimization
Policy based movement tracking ensures assets are not lost or mislaid
Manage Efficiency
Information to compare to the environmental efficiency of all Edge locations
Information to compare the efficiency of different power and cooling systems
Enable Skills
Data collected, analyzed and simplified providing actionable information to solve complex issues
'Guided presence' at each location enables lower skilled or personnel unfamiliar with the Edge environment make safe changes at the Edge
Flexible Organization
CenterScape collects, processes, and delivers information to meet the needs of a broad range of skills and functions
Roles based views delivering information specific to meet an individual's specific need
Full Visibility
CenterScape dashboard shows the impacted assets when a cooling or power issue is detected
Edge power and cooling, asset and physical access data collected and displayed on a single console\