There has been a growing trend of bringing data centers to the masses. While many of the country's largest companies own or lease vast amounts of space with hundreds of servers and an appropriately robust staff to manage them, this is not a model that's conducive to the needs of every business. Moving traditional data center services to the cloud has done much to help small and mid-sized organizations, as the costs of deploying and maintaining IT resources onsite can be eliminated, but the real savings that smaller scale companies urgently need can be found in subscription pricing cloud services for data centers. Without having to worry about capital expenditures and IT asset allocation, both newcomers and experienced (yet small) data center staff can spend more time focusing on what's most important: developing operational expertise in real-time and effective data center management.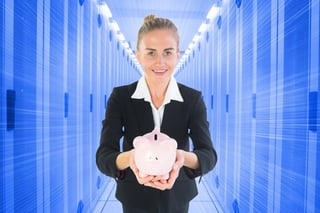 While it can take many forms, RF Code believes that a subscription priced model that offers a fixed price for the complete solution on an annual per-rack basis makes the most sense for the data centers that are most in-need of a subscription based cloud service. This is because a configuration which follows these parameters significantly lowers the entry cost for both end users and data center operators – a key consideration for IT departments searching for greater scalability and rapid return on investment from solutions. The beauty of the subscription cloud system is that it doesn't matter if the data center is on-site or thousands of miles away—the staff maintaining the data center share the same level of insight and management over their assets. In the latter's case, the model makes even more sense when the physical data center is in another country or on a different continent as access to server data, environmental conditions, and asset management can be interpreted and modified without having to get on a plane.
Small to mid-sized businesses can expand their search for a data center that fills their needs beyond mere geographic limitations, which is a liberating prospect. The same applies to the search for staff; when the data center is managed through a cloud-based subscription service, its operators don't necessarily have to be tethered to the actual facility. Granted, some physical presence will need to be maintained until a fully automated solution is created, which usually takes the form of the company's IT staff or a paid service of the data center. However, this model has the added benefit of allowing small businesses to contract data center management to an outside firm, freeing additional time and resources to focus on the development of products and services. The need for accurate and timely monitoring through a well-run subscription based service is underscored in this "remote data center" model, especially in crucial areas like SLA compliance and downtime avoidance. As this model is increasingly adopted and the physical data center is separated from its staff, real-time information on conditions within the facility hold an even greater importance so that service levels can be audited and reported with consistent accuracy.
Subscription pricing can also offer a great deal of versatility to the small data center. Depending on their needs and existing infrastructure, with this model operators have the ability to either rent the hardware and software, buy the hardware but rent the software, or purchase both. Typically, as the needs of the data center grow and change along with current technology, leasing the equipment almost always makes the greatest sense. As mentioned earlier, this benefit allows data centers to avoid replacing their existing technology if it's proven or rent the hardware/software and save on initial capital expenditures. Of course, the most valuable solution software will be able to easily integrate with hardware produced by a variety of vendors. Finding a subscription based data center management platform on the cloud that fills this role might seem like a large endeavor, but some of us still like to help out the little guy. Let us know how we can help you reduce your data center costs.