According to Synergy Research Group the retail co-lo market grew 8% in 2013. As enterprises continue their relentless move towards cloud IT, co-location space is being snapped up. This is an unsurprising figure.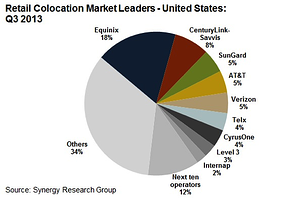 The second largest provider of co-location and hosted IT space in the report is CenturyLink; the same CenturyLink that is now an RF Code customer.
With RF Code the company is saving millions of dollars in power and cooling.
CenturyLink's objective was simple: drive energy efficiency and reduce its massive power bill. Prior to the RF Code deployment it was spending over $80 million a year on electricity.
Based on its current data center footprint (55 data centers in North America, Europe and Asia) and energy cost predictions, it identified annual savings of $2.9 million. Action was crucial for the company's bottom line.
First, The Results
Joel Stone, CenturyLink's Vice President of Global Data Center Operations and John Alaimo, CenturyLink Data Center Systems Engineer set a goal of raising server inlet temperatures to a more financially sustainable 75°F.
RF Code sensors were deployed at a 65,000 square foot pilot site to monitor thermal conditions as the team slowly and safely increased temperatures. Annual savings in the first year were $120,000, a return on investment within just 11 months.
Once they were sure their changes were sustainable, the company began implementing RF Code sensors across the rest of its global data center footprint, including 11 sites during 2014.
CenturyLink is forecasting savings of $1,205,000 for this year alone, with savings accruing each year thereafter. The full benefits include:
Projected annual savings of over $15,000,000 by 2017 if current deployment schedule is kept

Thousands of additional hours of free cooling through use of Economizer windows

RF Code data allows automated environmental management and monitoring across facilities

When necessary, full integration with BMS for greater control of thermal conditions
But it isn't just CenturyLink that benefits, as echoed by Alaimo, "The benefits are not only cost related. We can now demonstrate we are meeting our SLAs because we have so much more data within our facilities. We are able to mitigate risks and have greater visibility of the environment."
General Co-Lo Trends
As the market matures, co-location customers are becoming more demanding. Providers are now more accountable for their facilities than ever before. There is no hiding behind the cloud.
Our Digital Fortress case study demonstrated this. Like CenturyLink, the company implemented real-time monitoring capabilities not only for its own operational sake, but for its customers. It recognized that the benefits of doing so far outweighed the act of doing nothing.
Deploying a system that delivers 100% visibility of the data center environment generates hard statistical evidence that service level agreements are being upheld. Customers no longer have to trust a provider's word; they have insurmountable proof, as does senior management and the financial department.
Customers can see in real-time that their business-critical IT is running efficiently and safely. Any financial savings generated can be returned to the customer through billing reductions or other commercial benefits.