RF Code's executive team continued its long-standing legacy for industry leadership with packed conferences in North America, EMEA and Asia.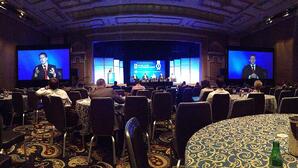 The highlight was a panel discussion I was invited to at HCTS North America. Titled The Data Center of 2020 and chaired by 451 Research Vice President of Research for Datacenter Technologies and Eco-Efficient IT, Andy Lawrence, I introduced our vision of a data center that is the driver of corporate strategy and success.
It was clear from audience feedback that many of the world's largest enterprises are still struggling to meet the operational challenges facing their bottom lines. Enterprises need strategic insight that delivers real outcomes, not just the inflated marketing materials that some providers in the industry churn out.
This is why we run regular executive briefings with the world's most influential companies to discuss their data-led strategies.
The most recent sessions took place in Hong Kong, Shanghai and Taiwan with a clear objective - through informed discussions, enterprises can visualize a clear strategy to improve their own facilities' sustainability and efficiency. Current enterprise success stories include:
HP

- 14,000 sensors are delivering power savings of

$300,000 a month
IBM

- 300,000 assets being tracked using RF Code Asset Lifecycle Management -

$40m saved over 5 years, 100% asset visibility
CenturyLink - $15m+ energy related savings

expected by 2018,

ROI in 11 months
Our next executive breakfast will be held in London on November 18 2014 ahead of our attendance of DCD London. Please let us know if you would like to attend the exclusive C-Level event.
There are still opportunities to hear us speak in 2014 as we will be at:
CA World: November 9-12 - Las Vegas

DCD Converged London: November 19-20 - Booth 329 - ExCel London

Gartner Data Center, Infrastructure & Operations Management: December 2-5 - Las Vegas

DCD Converged Dallas: December 9 - Dallas
Want to see how CenturyLink's RF Code deployment has resulted in millions of dollars in ongoing savings, and improved service offerings for customers? Cleick below to watch their presentation from earlier this year.