It's a new year. The end of the tax year beckons. Naturally the topic of new budgets is being discussed in organizations.
As more and more core business processes depend on technology, IT budgets will continue to rise.
According to IDC, worldwide spending on IT services is expected to reach $1.1 trillion by 2020 – but how does this translate to the spending power of individual businesses?
Change is afoot
IT budgets aren't necessarily getting larger but they are changing. There has been a shift in recent years with part of IT's spending taking place outside the IT department. CIOs have to increasingly think strategically and focus on business objectives when allocating budgets.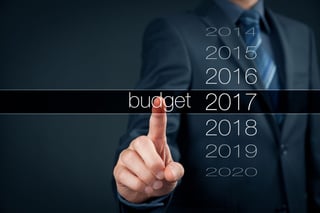 IT extends beyond hardware purchases and technical maintenance. It now includes other lines of business and digital transformation projects. As a result, IT's main objectives are how to improve services and raise performance across all departments.
Improving efficiency and business processes is the top priority for IT leaders in 2017 while the biggest challenge is how to optimise and control costs. One aspect of IT where these priorities and challenges can be addressed - the data center.
With the data center powering business services and ensuring network availability, it is the prime asset to focus on in 2017 to achieve greater IT efficiency.
Up in the clouds
The main shift in data center spending has been cloud investment. 451 Research reported that a third of IT budgets will be spent on cloud this year. This move to the cloud has its advantages, but there is still a need to monitor and manage cloud services to prevent downtime and monitor the data center environment.
Understanding energy usage and the condition of IT assets can help data center managers and CIOs find potential cost savings and invest budget where it is needed.
Real-time operational intelligence is key. CenterScape by RF Code and CenterScape Cloud help drive down data center TCO. Therefore, IT budgets can be spent on other projects rather than overcooling the data center or inefficiently running servers.
The move to the cloud is often a cost cutting measure as well as a digital transformation decision. Moving data center spending from a capital to an operating expense removes the costs of maintaining and purchasing hardware. RF Code's subscription model delivers this for environmental and asset monitoring in the data center.
We're interested to know how you're spending your IT budget this year. Answer our quick survey.