Each year brings a host of new developments for the data center industry and 2016 is likely to be no exception. Facilities come in every shape and size, so Here are some of our favourites.
First up, automating asset management. Work resolutions should always be about producing positive outcomes and improving your professional life. Real-time asset management enables data center managers to effectively control assets from the point of purchase, through deployment and maintenance, all the way to disposal.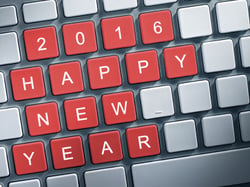 As we discussed previously, a startling number of data centers are managed with clipboards and spreadsheets. There are now a host of tools that can provide accurate, timely information for more efficient capacity planning and density management. This lets you focus on maximizing the productivity of assets, optimizing workflow and workload management, and reducing manpower costs associated with inventory control.
Another possible resolution is software integration and unlocking the hidden data in your facility. Many of our customers have reaped the business benefits of bringing together disparate services for a more integrated approach. You might face a similar scenario – numerous ITSM, DCIM and BMS platforms influencing the data center environment, but little visibility into their true impact on asset condition and thermal stability. With the right management strategy and software solution, you can start bringing together solutions for a more holistic view of the data center.
Next up is complexity. Very few people profess to be a fan of complexity, however it is difficult to ignore the fact that data centers are, by their very nature, complicated to build, manage and maintain. DCIM emerged to ensure those who are responsible for the data center have the capability to solve every challenge they face.
Not every business or data center manager needs DCIM. Solutions come in many guises and the term is used to define a broad range of products - some cover holistic data center management while others focus on specific aspects such as power monitoring, asset management, planning systems or other capabilities.
DCIM products that offer large scale functionalities can be extremely costly and may not always deliver the desired operational value. The beginning of 2016 might be an appropriate time to create new data center improvement goals which includes searching for a suitable solution capable of delivering your objectives.
Finally, managers could use the start of this year as an opportunity to rethink their monitoring entirely. Is 2016 the year you lose the 'infrastructure weight' and choose wire-free alternatives? Technology such as ours offers several significant benefits and is proven to boost productivity, improve operations and lower costs. Maybe now is a good time to look in the proverbial mirror and trim the excess 'fat' in your data center portfolio.